Boomer's Big Date
Boomer's Big Date
It's another regular day in the shop when Boomer finds out his ex-wife, Karen, skipped on her weekend with their son to go out with her latest boyfriend… Except the guy's on dating apps, and he doesn't seem to be as straight as it would seem — a fact Boomer would love to rub on his ex-wife's face.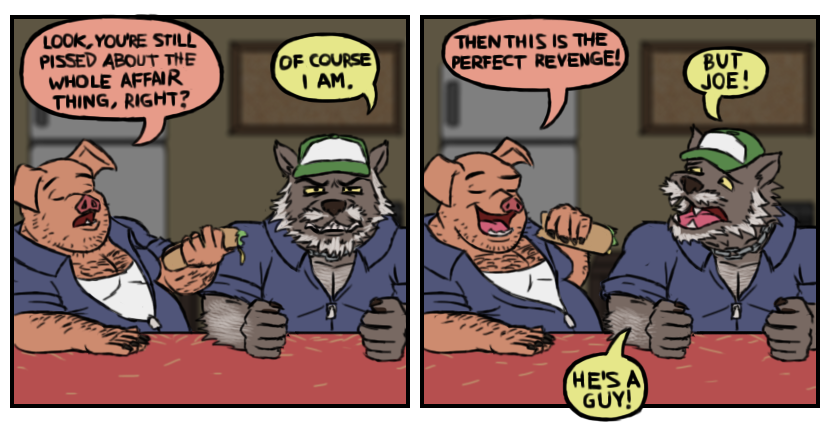 In this comic, Boomer and his coworker hatch a plan to get back at his neglectful ex-wife the only way he can: fucking her boyfriend!
Of course, fucking a guy may prove a challenge to our 100%, absolutely straight hero — but nothing that a bit of a vivid imagination can't fix, huh? He can do it, just gotta think of something nice.
What could possibly go wrong?
If you have any issues viewing the comic in your browser, you can download it on the link below. One thing you can try if you're using mobile Chrome is to go to settings, then check "Desktop site", works for me.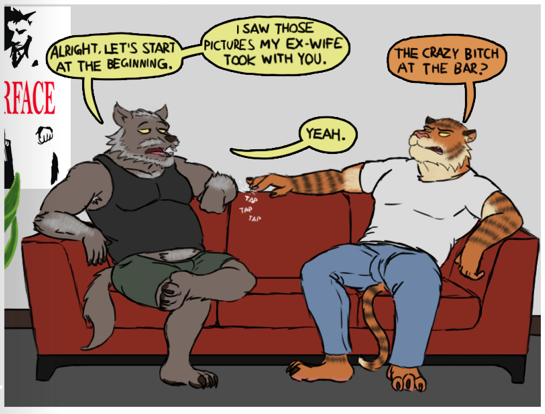 The comic has been finished for a while, and I've been posting more weekly strips with the characters on my Twitter, which you can follow for more strips and other stuff. I'm currently posting another comic, so I've compiled all the current strips in the BMZ section of this page. You can also support me on Patreon by clicking on the link below, where pages and strips are uploaded a week early. And if you liked Boomer's Big Date, consider checking out Minotaur Hotel, the visual novel I'm working on.
El cómic está disponible ahora en español.

ШокалоАлександр предложил перевести комикс на русский язык!
Special thanks to Shockalo Aleksandr for translating the comic into Russian!
Muito obrigado a Erniemesh por sua ótima tradução para o Português!
Special thanks to Erniemesh for translating the comic into Portuguese!
Un merci spécial à rien de spécial pour la traduction de la bande dessinée en français !
Special thanks to rien de spécial for translating the comic into French!
If you want more gay content, consider checking our and our friends' projects below!